WEDNESDAY 25 AUGUST, 2010 |
---
FreshKon® Colors Fusion - The Next Big Hit in Cosmetic Lenses!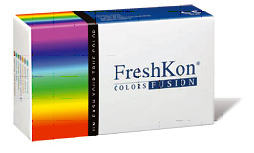 1. Are Freshkon Colors Fusion lenses natural looking? Yes. They are come in unique 3-tone colors that replicate the natural depth and dimension of truly beautiful eyes.
2. How will I know which colors are best suited for me? Always choose colors that go best with the color of your iris, hair, skin tones, make-up and that uber-chic outfit you're wearing. FreshKon Colors Fusion has something suitable for every occasion, whether you're feeling sweet and lovable, or sensuous and romantic, or glamorous and seductive or simply in vogue. Well, why not try them all? Click here to find out the dazzling colors available!
3. Can I wear Colors Fusion if I have perfect eyesight? Yes. You can use non-powered (plano) lenses. These lenses was designed for those who do not need any vision correction or those who have short-sightedness from power -0.50 to -10.00.
4. Will I need a prescription to wear cosmetic lenses even if I have perfect eyesight? Yes, you still need to be fitted for the lenses even if you do not need vision correction as contact lenses are classified as medical devices. Even if you do not require vision correction, it is important that your eye-care practitioner verifies proper fit and defines a wearing schedule to maintain your good vision and overall eye health.
5. Why choose FreshKon Colors Fusion? Unleash your true color. FreshKon Colors Fusion lenses employ unique 3-tone colors which reproduce the depth and dimension of naturally beautiful eyes for that naturally vibrant look. What's more, these lenses use hydrophilic ink technology to ensure nothing less than sheer comfort whenever you slip on a pair and grab attention everywhere you go.
6. Will wearing color contact lenses affect my vision? No. These lenses only changes the color of your iris and will not affect your vision. The optical zone in the middle is transparent and it is large enough to provide clear vision. Some wearers may experience blur in peripheral vision when wearing color contact lenses for the first time. This is normal for color lenses and it is due to changes in the amount of light that enters the eye. Your vision will most certainly improve after your eyes adapt to the changes. If you notice a continued change in your vision, consult your Eye Care Professional.
7. Will the colors fade over time? No. All FreshKon Colors Fusion lenses are well engineered and subject to strict quality checks, ensuring lasting colors on your lenses.
8. How should I care for my cosmetic lenses? Care for your cosmetic contacts as you would for any other soft contact lenses. Most Multi Purpose Solutions for soft lenses are suitable for cosmetic lenses. Do not use peroxide-based cleaning solutions. We recommend FreshKon CLEAR i Multi Purpose Solution, an all-in-one solution that caters specifically to all types of soft contact lenses, including color and Silicone Hydrogel lenses. FreshKon CLEAR i Multi Purpose Solutions provide long lasting comfort, are friendly towards sensitive eyes and have an anti-bacterial and anti-fungal efficacy*.
Professional Brand Contact Lensess and GEO Circle Lenses resource - https://www.contactlensxchange.com
Article Source: http://EzineArticles.com/?expert=Makiyo_Nagamura
---
---
---
---
---
News for Saturday 14 August, 2010
---
View all news for Saturday 14 August, 2010 on one page
---
---
Back to Archive