MONDAY 10 JANUARY, 2011 |
---
Circle Lenses - Why are they so popular?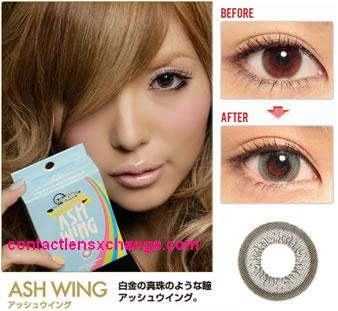 Circle Lenses - Why are they so popular?
Circle Lenses are soft colored contact lenses that are designed with a distinct circle outline on the lens. This vivid outline will enhance the size of your eye making them look bigger and more appealing.
Since the introduction of Circle lense, there are already 1 million Girls in Japan and South Korea that have been using it to enhance their looks. With other new exciting version of circle lenses being introduced into the market, this trend is gaining popularity rapidly.
This Fashion trend is now gradually sweeping into United States, United Kingdom and some part of Europe i.e. Denmark Sweden, Norway, France and Germany!
Nowadays you can find Circle Lens in various exciting colors and style to suit your life style or events. They are usually make of soft lenses for maximum comfort so that you can wear it at a longer period of time and still feel fresh.
Design of The lens is remarkably brilliantly with a vivid outer ring that enhances your eye instantly once you put them on. Many girls have grown to like it instantly especially it is very easy to put on and you can see yourself transform immediately to an attractive Barbie like Girl in minutes!
The Barbie Girl look with a big and bright eye look is astonishing and attractive. Many girls like this looks and would like to imitate it passionately.
Nowadays, You can find Circle Lens make by several manufacture however I will highlight one in particular as its product have been very popular lately and the company have also achieved several certification and conformity in terms of making and producing reliable contact lenses that meets the international standard. This company is non other then GEO medical Co, ltd.
GEO Medical Co. Ltd, have since designed and produced many circle lenses.
You can find lenses with different colors, style and design to suits any individual. You will be able to find popular model like - Geo Nudy Lens, Geo Angel Circle lens, magic circle, magic color, Twins lens, olive, Crazy lens and many more...
The Latest Color lens that was recently launched from the company was the GEO Trend circle Lens. This type of lenses have very interesting motif like Butterflies, stars, heart shape on the lens itself.
With the existing widely likable circle lenses and this special designed lens motif, I am sure you will find this Circle Lens Trend very exciting and worth the while to check it out.
Professional Brand Contact Lensess and GEO Circle Lenses resource
---
---
---
---
---
News for Friday 07 January, 2011
---
View all news for Friday 07 January, 2011 on one page
---
---
Back to Archive