Contact Lenses Details
1 Day Acuvue Define with LACREON Natural Shine contact lenses are updated as a part of the Acuvue Define series of color enhancing contacts for your eyes. Natural Shine is intended to brighten your eyes regardless of your natural eye color.   
・For lighter eyes, it produces a bold look with impact contrast and enlargement.   
・For medium eyes, it creates high-contrast with added depth.   
・For dark eyes, it forms a dimensional effect with enlargement and contrast.
As with all Acuvue Define lenses, this product now includes LACREON technology that allows for comfortable, moisturized daily wear together with protection against UV-A and UV-B rays from the sun.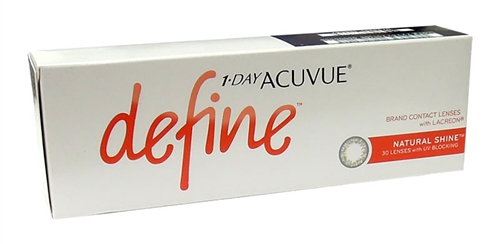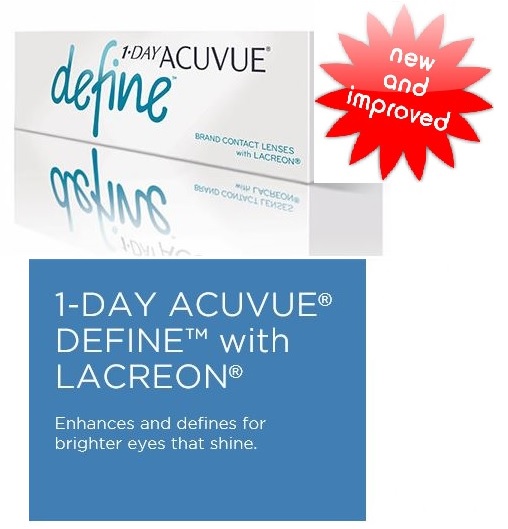 1 day Acuvue define Natural Shine cosmetic contact lens with Lacreon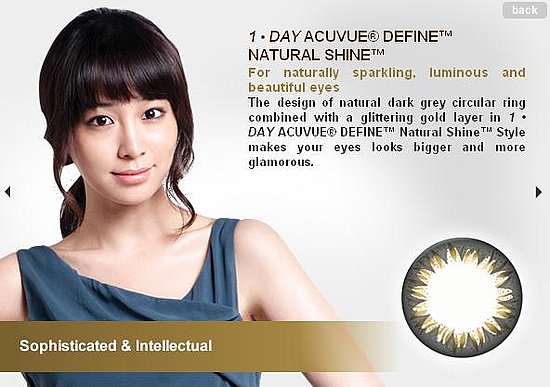 1-Day Acuvue Define lenses are the first daily disposable lenses to enhance your beauty in a natural, subtle way. They make your eyes look bigger, brighter, and more beautiful.
1 • DAY ACUVUE® DEFINE™. Daily disposable contact lenses makes your eyes look bigger, brighter and more beautiful so subtly and naturally that nobody will know your secret.
Beauty-Wrapped-In-Comfort™ Technology (BWIC™)
With BWIC™ technology, the colourants are sealed between two thin layers of lens material enhancing your appearance the healthy way. This technology does not reduce oxygen influx so you can enjoy the ultimate comfort from high oxygen transmissibility.

See How 1-Day Acuvue Define change your Look instantly
Before >> After

About 1-Day Acuvue® Define™

The secret to looking beautiful naturally

Johnson & Johnson's 1st daily disposable cosmetic contact lens designed to enhance the beauty of eyes in a subtle and natural way.

Makes the eyes look bigger, brighter and more beautiful so naturally that nobody will know your secret.
Smokey Eye Makeup Tutorial - Bobbi Brown
Key Benefits Beauty with Convenience
Flexibility of full or part time wear.
No lens care solution required.

Beauty wrapped in comfort

Has smooth lens surface.

Dark ring is set in the middle of two layers of Etafilcon A material to avoid contacting directly with eyes.

Beauty and Health

New pair of disposable contact lens daily for optimum eye health.

With UV Blocking to help protect your eyes.

How It works

Lens design

Part of the dark Gray ring sits on the white limbal part of eyes hence making the eyes look bigger.

Clear define edge of the lens accentuate the rim of the eye ball to make your eyes brighter and more distinctive.

With the average asian Horizontal Visible Iris Diameter being 11.2mm*, the outer diameter of 1-DAY ACUVUE® DEFINE™ was designed to be 12.7mm thus enlarging the eyes.
1 • DAY ACUVUE® DEFINE™ Natural Shine Style defines the natural pattern of the iris with the uniquely designed dark grey limbal ring and glittering gold shine giving you eyes that looks bigger and more vibrant eyes, creating a more expressive look.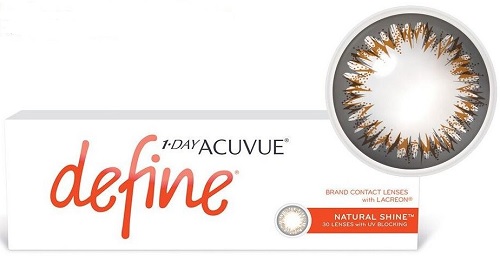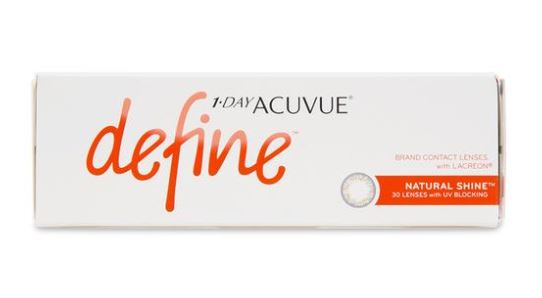 Buy Your 1-Day ACUVUE® DEFINE™ Natural Shine Style Now !
1-Day Acuvue define Radiant cosmetic collection