Contact Lenses Details
Biotrue ONEday contact lenses allow maximum moisture on the eye for incredible comfort. These lenses also retain moisture and shape better than the leading daily disposable lens. The High Definition Optics give you crisp, clear vision, even in low light. Bausch + Lomb Biotrue ONEday contacts offer exceptional breathability for white, healthy eyes and are UV blocking.
Biotrue ONEday with a unique bio-inspired material called HyperGel, it can ensure your eyes receive all the oxygen they need to keep them healthy.
In addition, Biotrue ONEday contact lenses have Surface Active Technology that it allows the lens to maintain 98% of its moisture for up to 16 hours. Thus, you're enjoying the healthy, comfortable convenience of a fresh pair every day.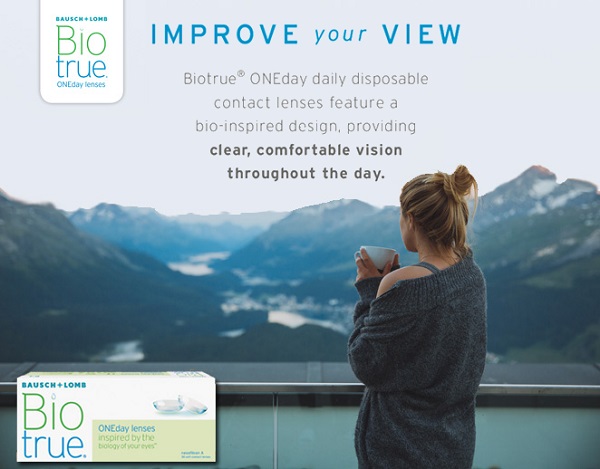 Inspired by Life. Yours.
Your day is long. Wear the contact lens that's designed to go the distance. Each day, you demand a lot of your eyes, especially when using digital devices. This may cause you to blink up to 66% less, which could make your lenses feel dry and uncomfortable.
Biotrue ONEday contact lenses start and end the day with more moisture than leading daily disposables. They maintain 98% of their moisture for up to 16 hours. You put a lot of demands on your eyes. You start early and keep busy till the end of day. Plus, you're using digital devices more, which may make your contact lenses feel dry and uncomfortable. Biotrue ONEday is made of a unique material that works like the eye to form a dehydration barrier providing comfort all day long.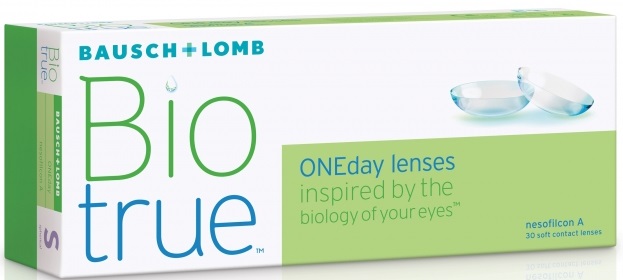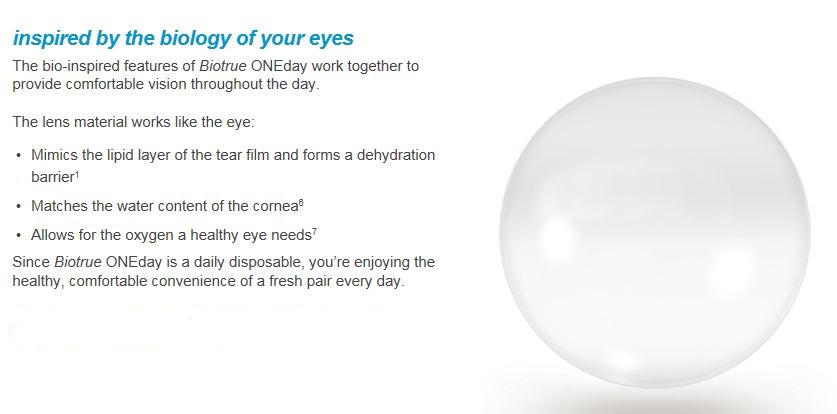 Key Features & Benefits
Maintains 98% of their moisture for up to 16 hours
High Definition Optics for crisp, clear vision all day
UVA/UVB protection to help protection against harmful UV rays
Convenience and comfort of a daily disposable lens
Bausch & Lomb BIOTRUE ONEDAY Daily contact Lenses
--------------------------------------------------------------------------------------------------
&nbsp