Contact Lenses Details
Biomedics® 55 Evolution aspheric contact lenses are design to effectively control spherical aberration in the lens and human eye. Spherical aberration is the inability of a lens to focus light on a common point. That means Biomedics 55 Evolution contact lenses are able to focus light, providing clearer, crisper, sharper vision - regardless of the amount of correction required. At the same time, a thinner, patented edge design provides excellent comfort. Biomedics 55 Evolution delivers better vision, comfort, and proven performance.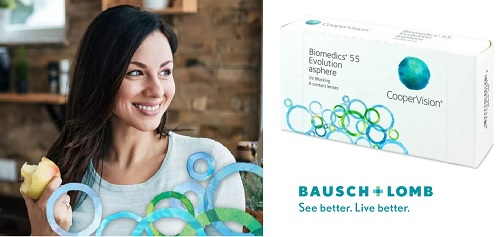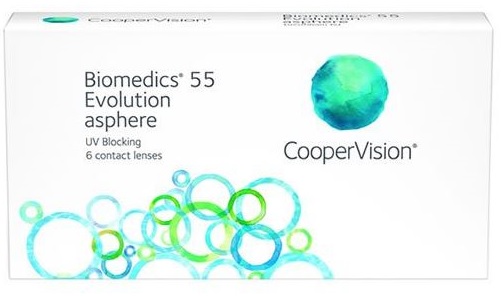 More information about Biomedics 55 Evolution
Biomedics 55 Evolution contact lenses, from leading manufacturer CooperVision, are monthly lenses specifically designed to correct naturally occurring spherical aberrations in your eyes. Many people have eyes that are not perfectly spherical and this can cause some difficulty with contact lenses, however Biomedics 55 Evolution overcome this. These lenses focus light into the right portions of your eye for the clearest and sharpest vision.
Biomedics 55 Evolution contact lenses are made from Ocufilcon D for slim and soft contact lenses that provide an excellent fit and exceptional comfort for your eyes for as long as you're wearing them. This makes them suitable lenses for a first-time wearer, particularly as they also have a light blue tint to help you remove them from the packet and apply to your eyes with ease. These monthly lenses can be worn for up to 30 consecutive days, provided you clean and store them in solution each night, and also have a UV filter for an added defence against sun damage.
Biomedics 55 Evolution contact lens technical specifications
| | |
| --- | --- |
| Manufacturer: | CooperVision |
| Brand: | Biomedics |
| Type of Lens: | Monthly |
| Material: | 55% Water + 45% Ocufilcon D |
| Water content: | 55% |
| Oxygen permeability: | 17 Dk/t |
| Lens diameter: | 14.2 mm |
| Base curves: | 8.6mm |
| Available powers: | -0.50 to -9.50 |
| Handling tint: | Yes |
| UVA/UVB protection: | Yes |
Product Details