Contact Lenses Details
DISCOVER YOUR NATURAL EYE RADIANCE WITH 1-DAY ACUVUE® DEFINE®. DEFINE® BEAUTY CONTACT LENSES ARE DESIGNED WITH TRANSLUCENT LAYERS TO ACCENTUATE, NOT HIDE YOUR NATURAL EYE BEAUTY. AVAILABLE WITH CORRECTION FOR NEAR AND FARSIGHTED PRESCRIPTIONS ONLY.
1-Day ACUVUE® DEFINE® Cosmetic lenses are the world's first and only beauty cosmetic contact lens brand to use three translucent pigment layers to accentuate the unique details of every individual's eyes. The first layer lightens, the next adds contrast and detail, and the last layer enlarges the limbal ring – for naturally beautiful and radiant eyes.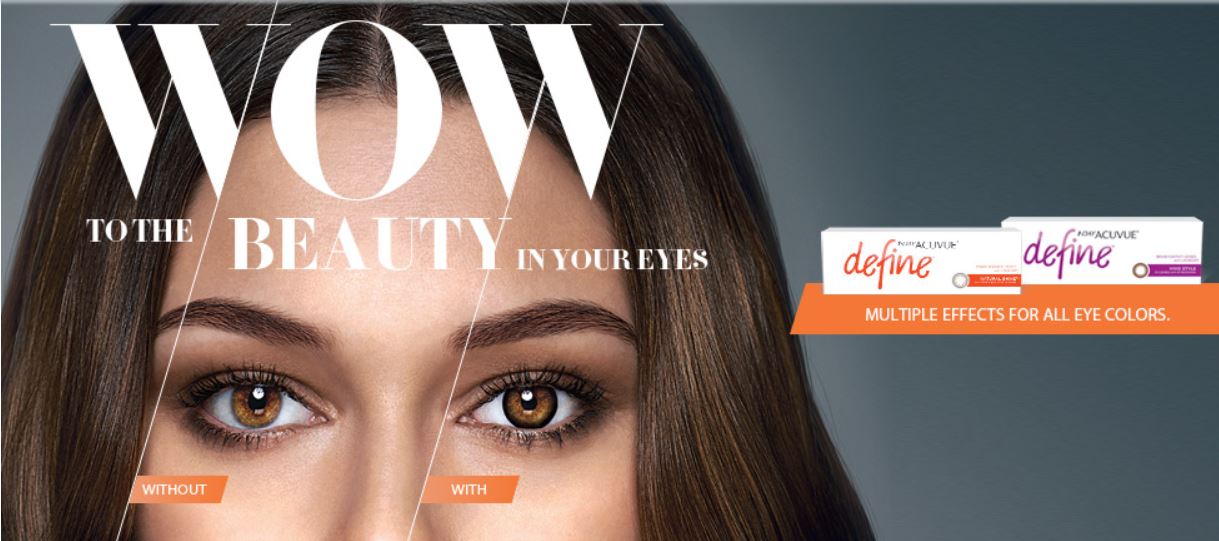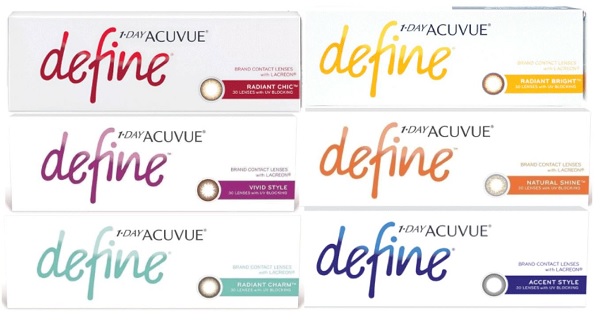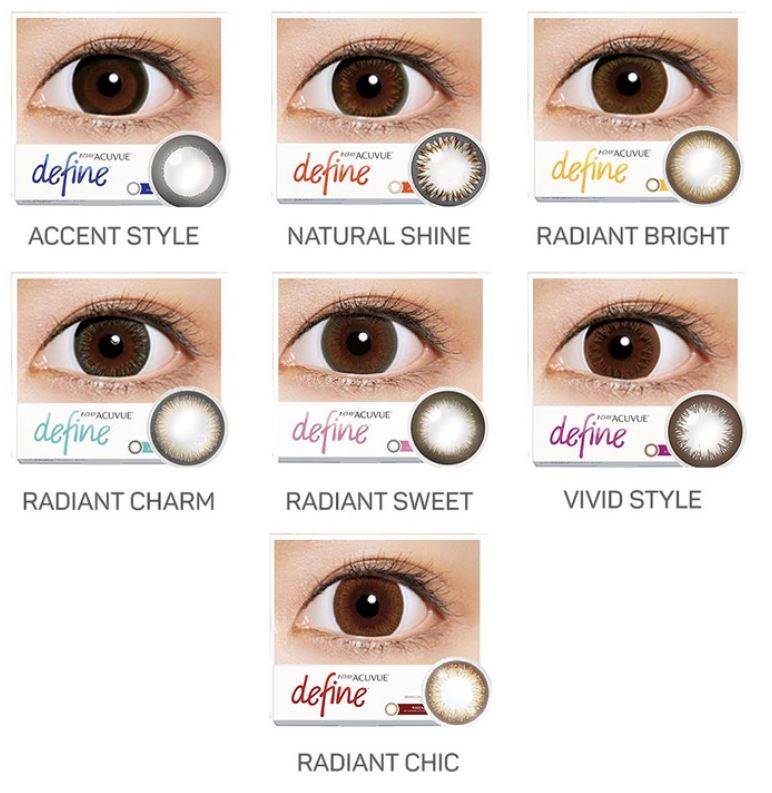 Bobby Brown secret of standout eyes makeup tutorial
1-DAY ACUVUE® DEFINE® is available in seven designs. Each design blends seamlessly with your unique iris pattern to accentuate, not mask your natural eye beauty.
LACREON® TECHNOLOGY
Using LACREON® Technology, ACUVUE® DEFINE® is the only beauty enhancement cosmetic contact lens with locked-in wetting agent, giving you a moisture cushion up to 20 hours for end of day comfort.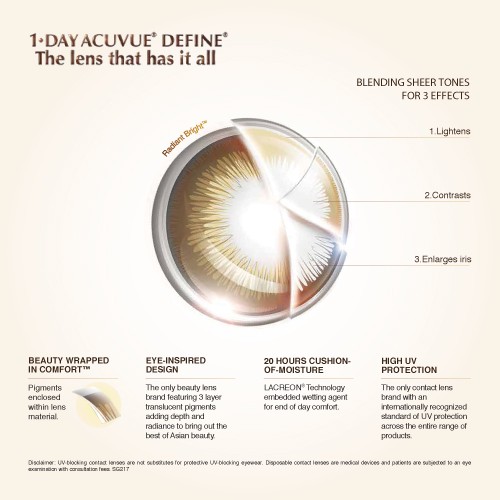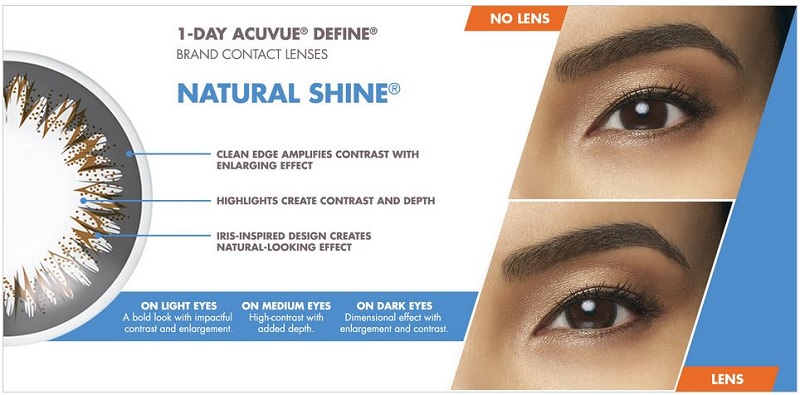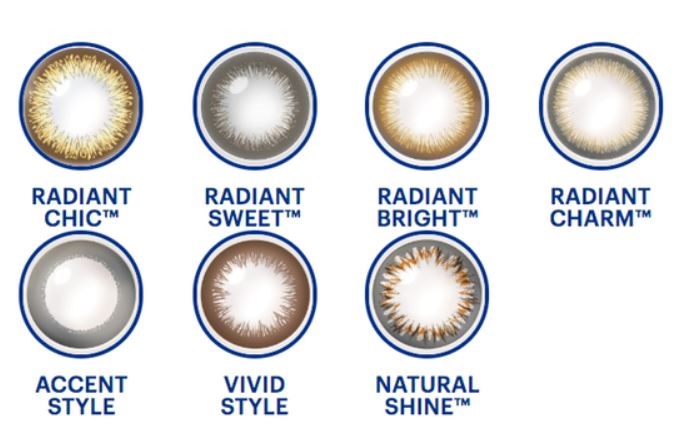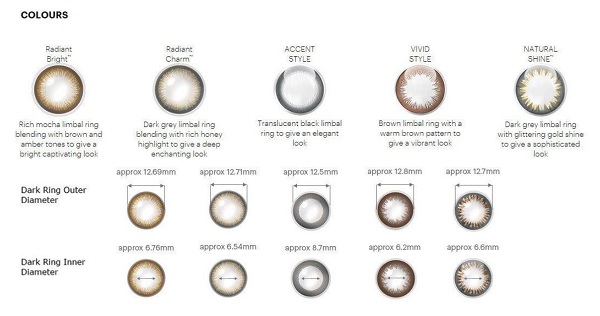 Product details :
UV Blocking

One of the highest levels of UV Blocking available in a daily disposable contact lens, approximately 97% UV-B and 82% UV-A.
Internationally recognized High UV protection standards.
Breathability

Hydrogel material (etafilcon A)
Delivers 88% of available oxygen to the open eye.
Wettability

Exclusive LACREON® Technology permanently embeds a moisture-rich wetting agent, resulting in a fresh lens feeling and end-of-day comfort.
Smoothness

LACREON® Technology forms a cushion of moisture similar to your natural tears to reduce friction and maintain moisture.
Easy Handling With Visibility Tint/Inside-Out Indicator

Contact Lenses are lightly tinted blue so you can spot them in your lens case and inserting lenses correctly every time is as easy as following the 1-2-3 mark.
Package Size

30 lenses/box
Lens Diameter

14.2 mm
Base Curves

8.5 mm
Powers

Plano, -0.50D to -6.00D(0.25D steps), -6.50D to -9.00D(0.50D steps)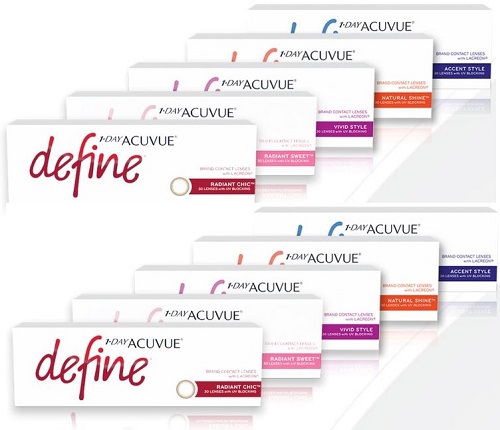 Order Your 1 Day Acuvue Define / Radiant cosmetic lens Now !