Contact Lenses Details
PureVision 2 Toric For Astigmatism contact lenses feature HD Optics that deliver the clear, crisp vision that you should demand designed to reduce halos and glare especially in low light. This lens offers design advances; outstanding comfort and breathability.
Purevision® 2 Toric is a second generation lens in the Purevision® family of lens products.
This lens manufactured of silicone hydrogel lens material delivers high oxygen transmissibility to the eye tissues guaranteeing excellent ocular health during lens wear. .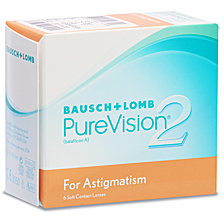 New and Improved version !!
Product Information:

Purevision® 2 Toric features High Definition™ Optics that provides the wearer with a clear, crisp vision quality even in low light conditions. As the thinnest lens on the market, the Purevision® 2 Toric lens does not compromise on handling. Even in low lens powers the lens is very easy to handle especially for the novice contact lens wearer. Packing of this lens has also changed as compared to its predecessor.
This new lens is blister packaged using the Comfort Moist™ Technology, a packaging solution that incorporates poloaximine – a moisturizing surfactant (lens surface detergent or cleaner). Using this kind of packaging technology contributes to increased lens comfort on insertion
Package : 6 lens per box ( monthly replacement lens )
Order Your Purevision 2 HD for astigmatism today !