Contact Lenses Details
BioMedics 1 Day Extra Toric contact lenses are designed for comfort and stable constant vision.
You can now enjoy using hassle free daily toric lenses. No cleaning, no solutions and a new set of lenses every day. The advanced horizontal iso-thickness design with junctionless front surface will allow the eyelid to encounter a smooth surface on every blink, maximising comfort. Each box contains 30 daily disposable lenses



Biomedics 1 Day Extra Toric : Information
Technical specifications

Type of Lens: Daily disposable toric
Material: 55% Water + 45% Ocufilcon D
Water content: 55%
Oxygen permeability: 17 Dk/t
Lens diameter: 14.5mm
Base curves: 8.7mm
Available powers: -10.00D to Plano
Handling tint: Yes
UVA/UVB protection: Yes

Usage instructions: Daily wear
Contents: 30 contact lenses per box

Compatible Lenses:All daily torics
Note : The Axis range for power range -7.50 to -10.00 is available with 90 and 180

Biomedics 1 Day Extra Toric are daily contact lenses that correct astigmatism from CooperVision, one of the world's leading manufacturers for soft contact lenses.

With a unique design you can be assured that these lenses have been created with comfort and stability in mind, so you won't experience any blurry vision caused by movement on the eye and most importantly you won't feel like your even wearing lenses.

Their visible tint means they're easy to spot when you put them in the morning and take them out in the evening.

Daily disposable lenses are the perfect choice for people who prefer to wear contact lenses occasionally or for playing sport. They're also ideal to wear daily, if you don't have the time to be tied down to a regular cleaning regime. Dailies promote better eye health, simply because you throw them away at the end of the day, so there's little time for unwanted dirt and debris to build up on the surface.

Biomedics 1 Day Extra Toric lenses are exactly the same as Biomedics 1 Day Toric, only the packaging and name has been updated. If you have a valid prescription for Biomedics 1 Day Toric this will be accepted when purchasing Biomedics 1 Day Extra Toric.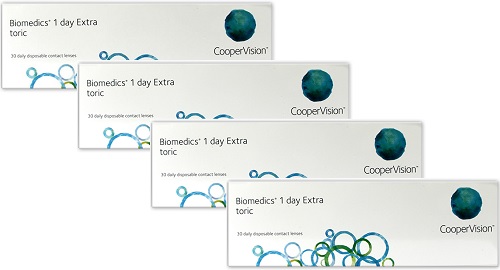 Buy your Biomedics 1 Day Extra Toric lenses Now !