Contact Lenses Details
1 Day ACUVUE® DEFINE® Radiant Bright™ is the world's first and only beauty brand cosmetic contact lens to utilize three translucent pigment layers to enhance the unique details of your eyes.
The uniquely designed 3 translucent pigment layers accentuate the natural beauty of your eyes by adding depth and greater definition. The first layer lightens, the second layer add contrast and detail while the third layer enlarges the limbal ring that creates a naturally looking beautiful and radiant eyes.
1 Day ACUVUE® DEFINE® Radiant Bright™ features a brown color lens with overlapping 3 layers (brown, amber, and mocha). This unique design gives a sheer color gradation allowing for naturally bigger pupils. The elegant color brings warmth to the eyes. The sophisticated pattern on the lens also provides natural texture to your eyes and creates depth to the iris while its varying translucency surface blends in with the iris to accentuate depth, that offers an impression of larger, sparkling eyes.
1 Day ACUVUE® DEFINE® Radiant Bright™ with LACREON® TECHNOLOGY
LACREON® Technology is developed by Johnson & Johnson Vision Care. The innovation design permanently embeds a water-holding ingredient, similar to that found in natural tears. The moisture is permanently kept in the lens, hence keeping your eyes feeling fresh and more comfortable all day long. In addition, the lens has a silky-smooth cushion that reduces surface friction and allows the eyelid to glide over the lens easily.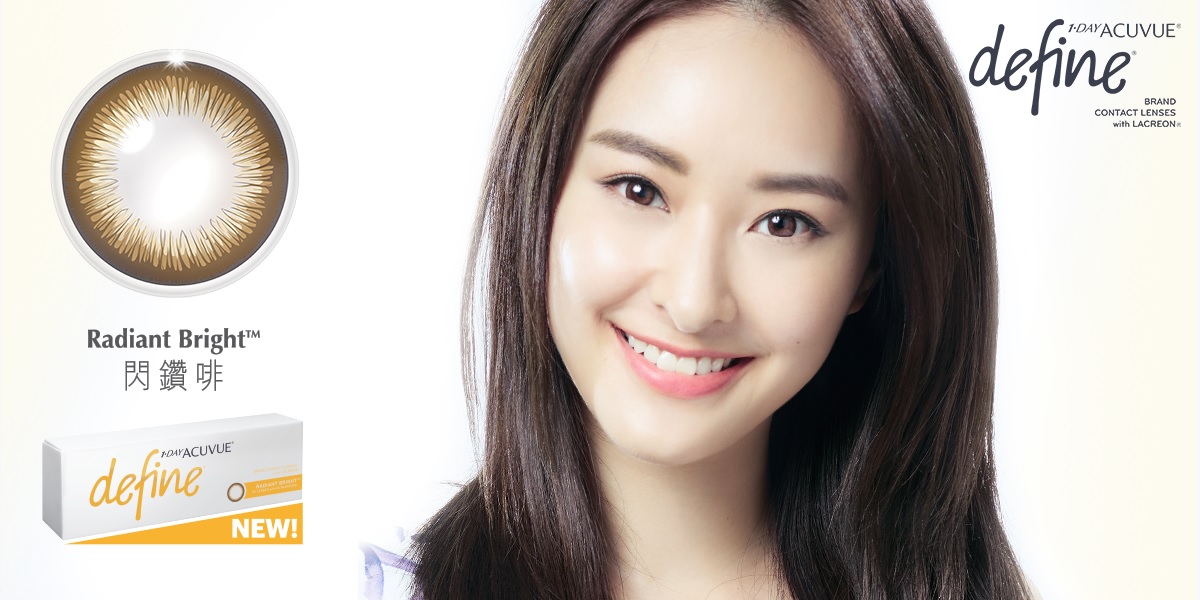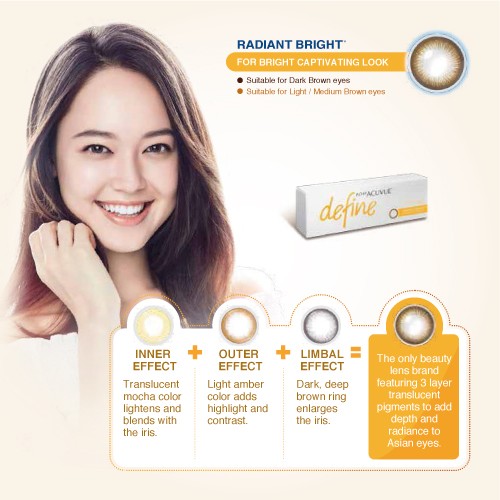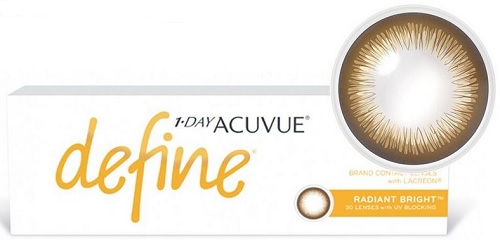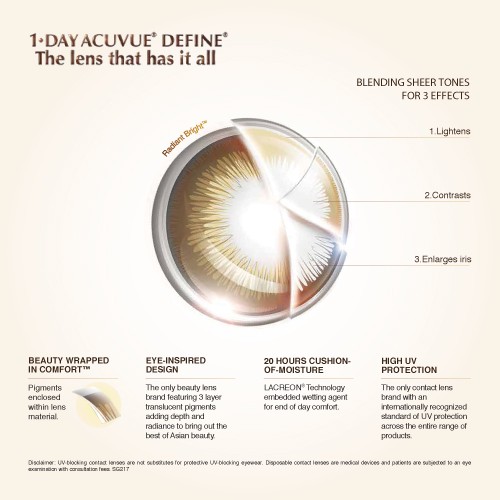 PRODUCT DESCRIPTION
1 Day ACUVUE® DEFINE® Radiant Bright™ Cosmetic contact lens
BENEFITS
Makes eyes look bigger and shinier, and also feel good with its EYE-INSPIRED™ Design
VISION CORRECTION
Available correction for: Nearsightedness (Myopia): Distant objects appear blurry.
REPLACEMENT SCHEDULE
Daily wear, daily replacement
Fresh pair every day for healthier eyes, greater comfort and convenience
UV BLOCKING
UV rays from the sun are not only bad for your skin, they can also harm your eyes. That's why 1 • DAY ACUVUE® DEFINE® help protect the covered portions of your eyes by approximately 97% of UV-B and 82% of UV-A radiation, without affecting your vision. Internationally recognized High UV protection standards.
BREATHABILITY
Hydrogel material (etafilcon A)
Delivers 88% of available oxygen to the open eye.
WETTABILITY
Exclusive LACREON® Technology permanently embeds a moisture-rich wetting agent, giving you a moisture cushion up to 20 hours for end of day comfort. SMOOTHNESS LACREON® Technology forms a cushion of moisture similar to your natural tears to reduce friction and maintain moisture
PACKAGE SIZE
30p lenses/box
LENS DIAMETER
14.2 mm
BASE CURVES
8.5 mm
POWERS
Plano,
-0.50D to -6.00D(0.25D steps)
-6.50D to -9.00D(0.50D steps)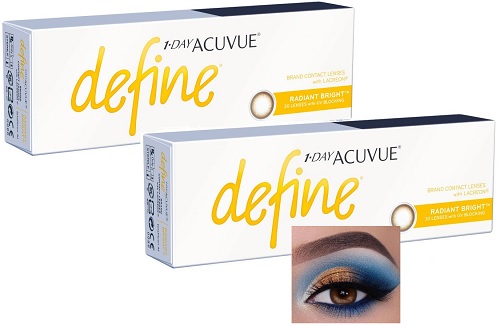 Order Your 1 Day Acuvue Define Radiant Bright cosmetic Contact Lens Now!
Check-out other 1-Day Acuvue define Radiant cosmetic collection here