Contact Lenses Details
1-Day Acuvue Define Accent cosmetic contact lens are specially designed with a dark circle ring on the lens. This circular ring will encircle the iris of your eyes, making them brilliantly larger and brighter.
1-Day Acuvue Define cosmetic lenses are daily disposable lenses that enhance your beautiful eyes in a natural, subtle way. Your eyes will appear bigger, brighter and beautiful!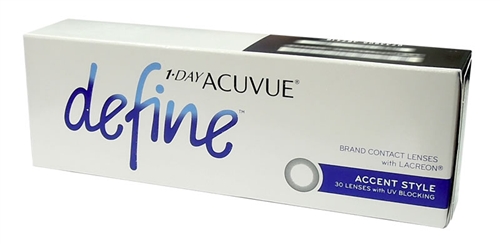 1-Day Acuvue define Accent Style

1 day Acuvue define cosmetic contact lens with Lacreon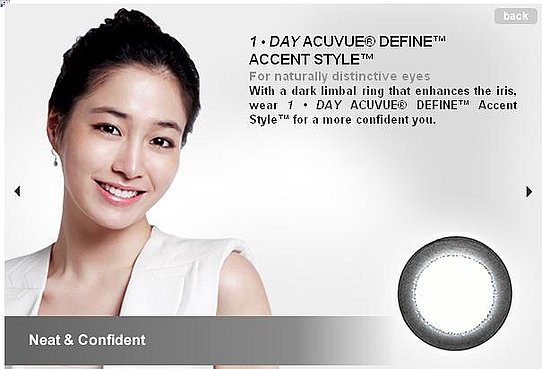 1 - DAY ACUVUE® DEFINE™. Daily disposable cosmetic contact lens makes your eyes looks bigger, brighter and naturally beautiful !
See how 1 • DAY ACUVUE® DEFINE™
change your look instantly

1• DAY ACUVUE® DEFINE™ Accent Style
See How 1-Day Acuvue define Accent Change You Look Instantly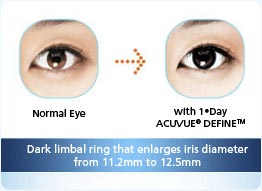 Before >> After
Eyes Standout Makeup Tutorial - Bobbu Brown
Key Benefits

Beauty with Convenience
Flexibility of full or part time wear.
No lens care solution required.

Beauty wrapped in comfort

Has smooth lens surface.

Dark ring is set in the middle of two layers of Etafilcon A material to avoid contacting directly with eyes.

Beauty and Health

New pair of disposable contact lens daily for optimum eye health.

With UV Blocking to help protect your eyes.
How It works

Lens design
Part of the dark ring sits on the white limbal part of eyes hence making the eyes look bigger.

Clear define edge of the lens accentuate the rim of the eye ball to make your eyes brighter and more distinctive.

With the average asian Horizontal Visible Iris Diameter being 11.2mm*, the outer diameter of 1-DAY ACUVUE® DEFINE™ was designed to be 12.5mm thus enlarging the eyes.
1-ACUVUE® DEFINE™ Accent Style
With a dark limbal ring that enhances the iris, wear 1 • DAY ACUVUE® DEFINE™ Accent Style for a sophisticated and elegant you. It makes your eyes look bigger and more defined, for a classically beautiful look.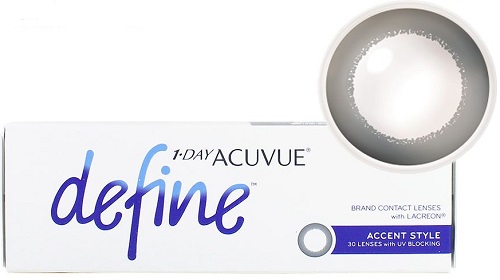 Buy Your 1 • DAY ACUVUE® DEFINE™ Accent Style cosmetic contact lens Now!
1-Day Acuvue Define cosmetic lens collection