Contact Lenses Details
Coopervision's MyDay daily disposable. Delivers on everything. Compromises on nothing.
MyDay daily disposables are Coopervision's latest contacts lenses made with a unique material called Smart Silicone, which maximizes oxygen delivery to the cornea. The daily lens also offer high moisturization making for a softer lens and a comfortable wearing experience. An ultraviolet radiation blocker helps protect wearers' eyes, limiting 75% of UVA and 99% of UVB rays.

Features
Thanks to oxygen-efficient Smart Silicone™ chemistry, MyDay lenses deliver the optimal balance of breathability, comfort and easy handling

Silicone hydrogel with high oxygen transmissibility

Easy handling

UV inhibitor*

MyDay daily disposable. Delivers on everything. Compromises on nothing.
High water content and a naturally wettable surface without a coating or internal wetting agent.
Modulus – soft like a hydrogel lens, but with the handling of a silicone hydrogel
Optimal oxygen permeability for a daily disposable lens
CooperVision's MyDay daily disposable contact lenses feature a unique chemical structure that shapes silicone into a network of channels that are much more efficient at delivering oxygen through the lens. So less raw silicone is needed for optimal oxygen permeability. This leaves more room for hydrophilic material, creating a lens with the best of both the hydrogel and silicone hydrogel worlds.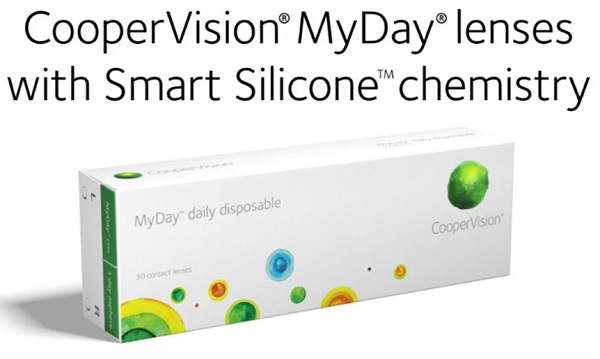 Clinically proven for patient satisifaction
MyDay daily disposables have undergone rigorous clinical studies to help you offer a lens that will fit effortlessly into your patient's day. The results speak for themselves.
In a study against a leading daily disposable:
9 out of 10 MyDay wearers were satisfied with comfort
More wearers had whiter looking eyes with MyDay
Patients overwhelmingly preferred MyDay handling 5:1
Provides high water content
Contributes to high wettability for excellent patient comfort
Enhances lens movement on the eye for a comfortable fit
Features a low modulus
Superb handling for easy application and removal
Has a high Dk
More efficient oxygen transmission
Clearly meets the oxygen requirement for daily wear
Provides whiter looking eyes (excellent ocular response)
MyDay daily disposable contact lenses meet the needs of today's demanding wearer.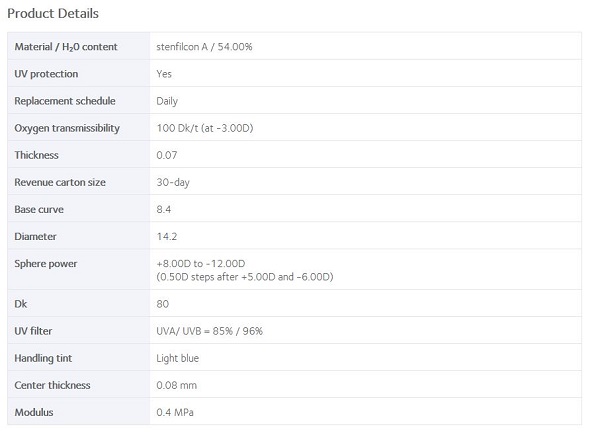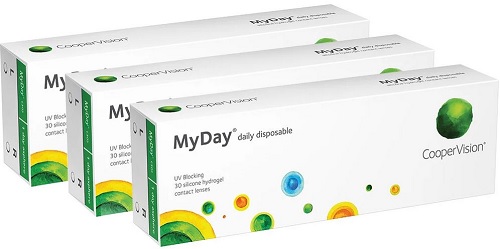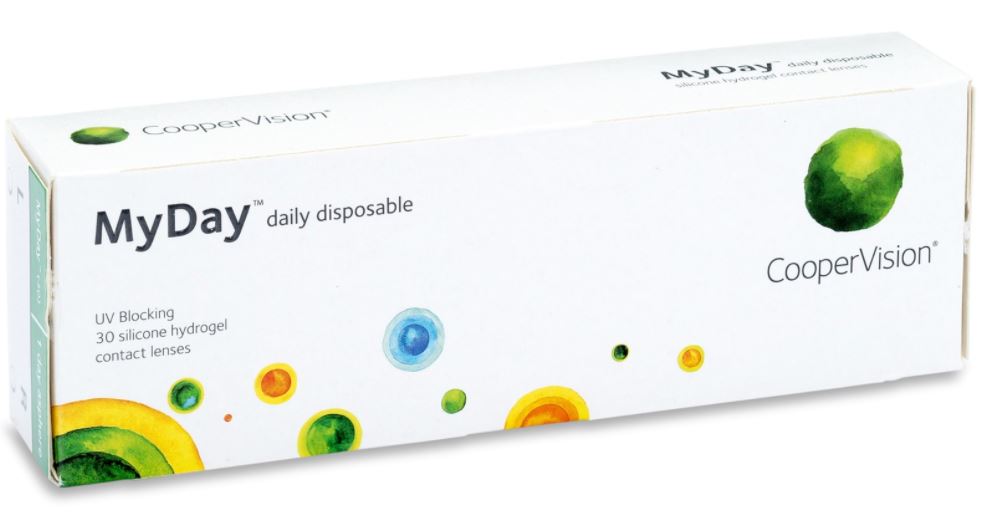 Get Your Coopervision's MYDAY daily Disposable contact lens Today!