Contact Lenses Details
1 Day Acuvue Define Radiant Sweet contact lens has a unique design that provides a three-dimensional effect and natural shine to your eyes. The design is inspired by the actual pattern of the iris, making eyes look bigger in a natural way.
Through Lacreon® technology, these lenses will stay moist by a moisturizing agent that is embedded in the lens itself, leaving the lens fresh and moist throughout the day. With the innovative moisture locking technology, the fine pigmented particles embedded in these lenses will not be in direct contact with your eyes. Each lens is very soft and comfortable on the eye and is incredibly still firm enough to stay in place and not shift around the eye's surface when used.
In addition, these lenses have the ability to block 97% of the harmful ultraviolet B waves and 81% of ultraviolet A waves that offer extra protection from the UV rays that manage to pass through the sunglasses.
1-Day ACUVUE Define Radiant Sweet contact lens is the perfect choice for bringing out the natural beauty of your eyes with extra comfort all day long.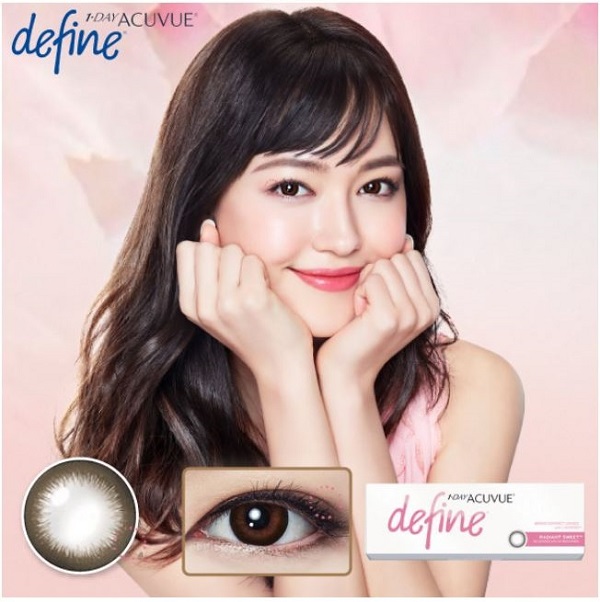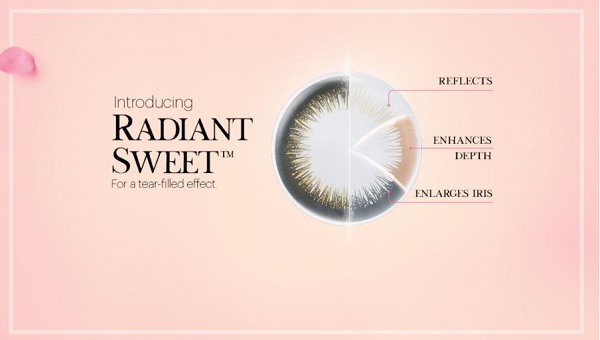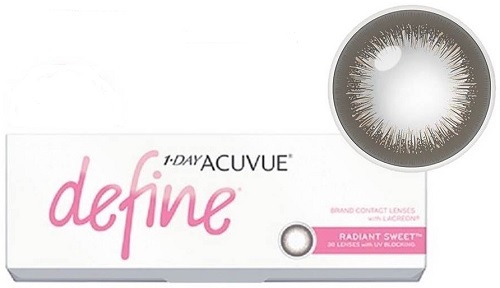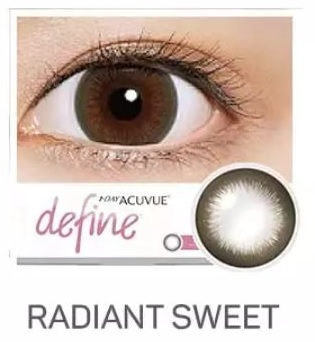 BEAUTY LENSES WITH SAFELY ENCLOSED PIGMENTS THAT PROTECT YOUR EYES
1-DAY ACUVUE® DEFINE® beauty lens, is the one-of-the-kind Beauty-Wrapped-In-Comfort™ (BWIC™) technology that ensures the pigment layers are sealed between clear lens material to prevent direct contact with your eyes.
UV EXPERT AND UNPARALLELED COMFORT
ACUVUE® DEFINE® lenses also boost ACUVUE® 's proprietary LACREON™ technology that promises a 20-hour cushion of moisture, and an internationally recognized standard of UV protection that covers eyes from 97% of UVB and 82% of UVA.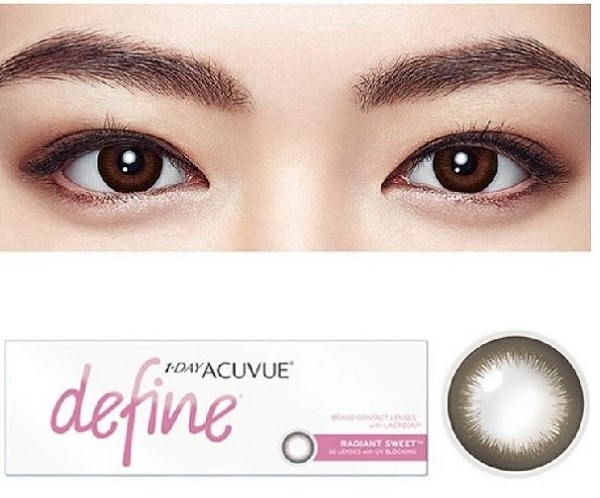 Smokey Eyemakeup By Bobbi Brown
PRODUCT DESCRIPTION
1 Day ACUVUE® DEFINE® Radiant Sweet Cosmetic contact lens
BENEFITS
Makes eyes look bigger and shinier, and also feel good with its EYE-INSPIRED™ Design
VISION CORRECTION
Available correction for: Nearsightedness (Myopia): Distant objects appear blurry.
REPLACEMENT SCHEDULE
Daily wear, daily replacement
Fresh pair every day for healthier eyes, greater comfort and convenience
UV BLOCKING
UV rays from the sun are not only bad for your skin, they can also harm your eyes. That's why 1 • DAY ACUVUE® DEFINE® help protect the covered portions of your eyes by approximately 97% of UV-B and 82% of UV-A radiation, without affecting your vision. Internationally recognized High UV protection standards.
BREATHABILITY
Hydrogel material (etafilcon A)
Delivers 88% of available oxygen to the open eye.
WETTABILITY
Exclusive LACREON® Technology permanently embeds a moisture-rich wetting agent, giving you a moisture cushion up to 20 hours for end of day comfort. SMOOTHNESS LACREON® Technology forms a cushion of moisture similar to your natural tears to reduce friction and maintain moisture
PACKAGE SIZE
30 Lenses/box
LENS DIAMETER
14.2 mm
BASE CURVES
8.5 mm
POWERS
Plano,
-0.50D to -6.00D(0.25D steps)
-6.50D to -9.00D(0.50D steps)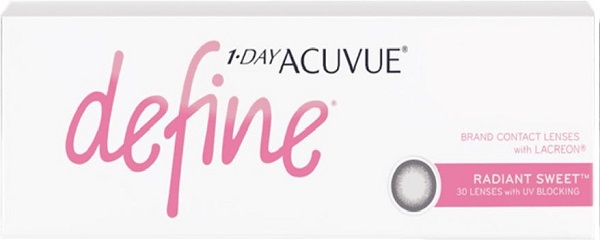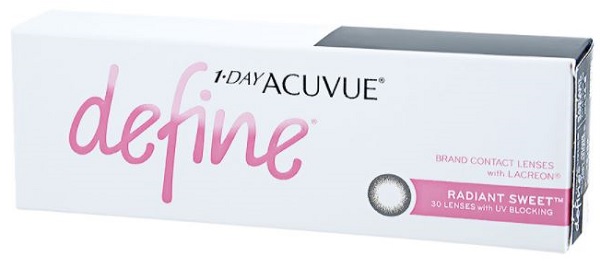 Order You 1 Day Acuvue Define Radiant Sweet Cosmetic Contact Lenses Now!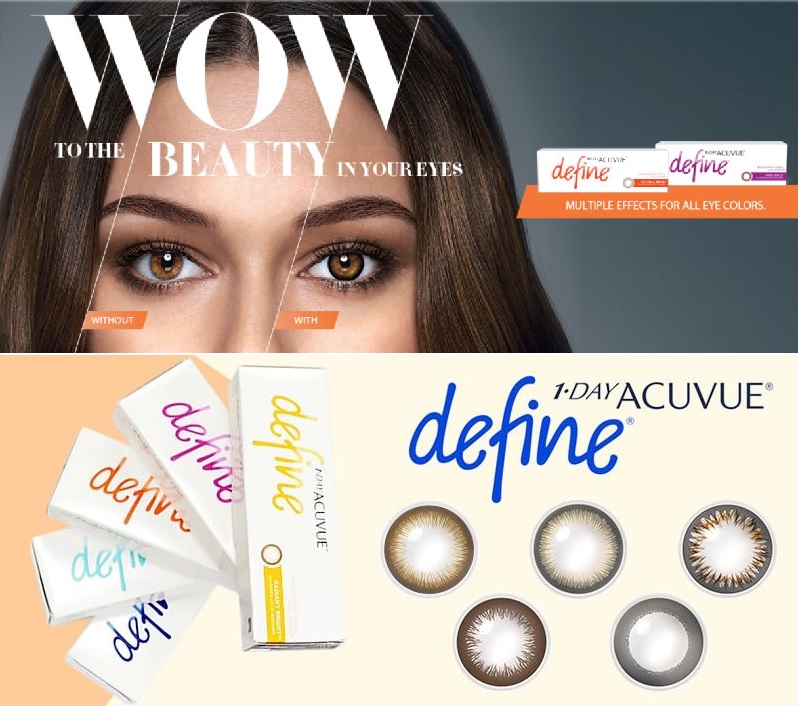 1-Day Acuvue define Radiant cosmetic lens collection