Contact Lenses Details
ACUVUE ® 2 from Johnson & Johnson - contact lenses that improve comfort. These contacts are designed as a two-week daily wear contact lens providing exceptional vision clarity.
Product Information:

Acuvue 2 are soft contact lenses by Johnson & Johnson(Vistakon) that offer the freedom of crisp, clear vision and enhanced comfort through frequent replacement. Acuvue 2 are comfortable contact lens designed for easy handling and for the convenience of one to two week replacement lenses. Wear the same pair every day - clean them every night for up to two weeks, and then replace with a new pair.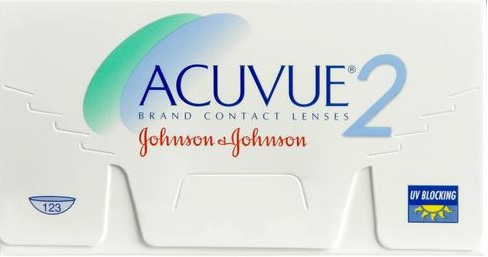 Acuvue 2 lenses are tinted for ease of handling and will not change the color of your eye. The tint is simply designed to facilitate locating the contact lenses in solution. These contact lenses contain an inside-out "AV" indicator to help ensure proper application/insertion.

Product Availability:

In stock - Orders normally ship same day if ordered by 2 PM CST

Return Policy:

Return or exchange unopened lenses within 30 days

Material Content:

42% Polymer (etafilcon A)

Water Content:

58% H2O

Manufacturer:

Johnson & Johnson