Contact Lenses Details
GEO Fresh Circle Color lens Series ( Dia 14.80 mm Bigger lens Barbie or Dolly Eyes series )

Geo Fresh Circle Color Lens series ( Barbie or Dolly Eyes ) has a vivid circle line that emphasize the eyes making them brighter and more appealing. ( Most natural For Oriental Eyes )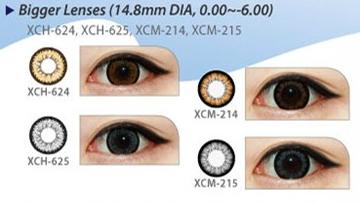 Note. : * XCH – 624 , XCH – 625 Temporary Not Available with Power Correction
XCM 214, XCM 215, XCK105 Is available with power correction from 0.00 ~ -6.00 only
( XCK 105 - required additional 2 - 3 weeks approx. for processing as this is a special lenses that is made to order at this time )

Enjoy the outstanding look of your eyes and fresh feeling whenever you wear Geo Angel Color vivid Circle line soft contact lenses

Geo "Fresh Color " is the trade mark of Asia networks inc., of japan
GEO FreshCircle Color Lens Series ( 14.80 mm BIgger Lenses - Beautiful Dolly Eyes )
Geo Fresh Color series has a vivid circle line that emphasize the eyes making them brighter and more appealing. ( Most natural For Oriental Eyes )

GEO Fresh Circle Color Lens Series - Bigger lenses ( Dolly Eyes )
Homebody grwm Makeup Tutorial By Jessica Wu

Additional information
Unit Price Quantity : Sold as 1 pair ( 2 lens with same spherical power or just 0.00 Plano ) .
Note : If both your eye having different power, we will suggest you order 2 pair with the required prescription power to suit you eyes.

Parameter

* Spherical Power : 0.00 ~ -6.00.
* Water Content : 38% ~ 42 %
GEO Medical Co. LTD - DNV Certification & Conformity

Note : Cleanliness is the first and most Important aspect of proper contact lens care. Establish a routine of good hygiene whenever handling your GEO lenses.
Always Use your GEO Circle Lens With Care - Always Use It wisely & Responsibly !
We will recommend that you soak the New GEO Circle Color Lens for 6 Hours prior to use - DO not use it straight from the vial Bottle
Buy Your favourite Authentic Geo Circle lens Now !